TS2A Portable Glad Hand Lock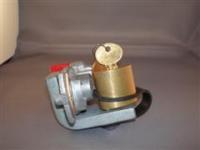 The TS2A is a Portable Glad Hand lock used to secure trailers being loaded at docks from being inadvertently moved. This is both a safety issue and security recommended Best Practice. Many warehouse injuries and deaths have occurred when drivers inadvertently pull the wrong trailer away from a dock while a fork lift operator is inside loading. These mistakes can happen anywhere and use of this simple and effective device prevents them 100% of the time. By assigning keys to loads, your foreman will always be able to certify that the right driver is taking the right load because he is unlocking his assigned Glad Hand Lock.
The Portable Glad Hand Lock seals the air intake valve on a trailer's brake system. It is designed to cut off access to the trailer air brake line making access to the glad hands of a trailer impossible. It fits all glad hand fittings.
The Portable Glad Hand Lock is easy to use and can be applied very simply by removing the lock body and inserting the plug into the air hole on the trailer. Removal is also quite simple and takes only a few seconds. This is a basic security tool which is ideal for distribution centers, ports, or as a locking device to deter theft when trailers are left in yards unattended.
QUANTITY PRICING
| | |
| --- | --- |
| QUANTITY | PRICE |
| 1 - 25 | $52.50 |
| 26-50 | $49.50 |
| 51-250 | $44.50 |
| 251-1000 | $39.50 |
| 1000+ | $37.50 |
NEW MINIMUM CHARGE $65.00 FREIGHT INCLUDED
Replacement Keys are $9.50 minimum 4.
Replacement knobs are $45