TS3A Permanent Glad Hand Lock
SKU: TS-3A
Price: $289.00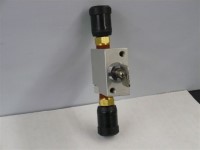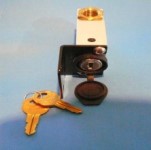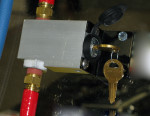 TS-3A is a US patented product. Patent 8,376,472B1. It is a permanently installed glad hand lock designed to secure unattached chassis and trailers while on yards, in drop lots, in transit, on client sites or in rail yards.
The device is a simple mechanical air locking valve that is engaged when the there is no air in the trailer brake lines. It can be overt or covertly applied to the trailer. Upon disconnecting the trailer, the driver turns the key moving a ball valve in place so that no air can be re-introduced into the lines to raise the brakes. TS-3A is plumbed directly into the trailers air lines, and requires a considerable amount of time to circumvent. Unlike a portable glad hand lock which can be removed along with the fitting, TS-3A cannot be removed without doing damage to the lines, thereby disabling the trailers brake system. Easy to operate and extremely secure, TS-3A has tremendous deterrent value against theft. It can be quickly installed on most air brake equipped trailers, attached either to the facing of the trailer or on the undercarriage in a concealed, but accessible, location. The TS3A can also be used on hydraulic lines for construction equipment. The TS3A and TS4A can have a common key.
Shipped UPS Fob NJ. Master keys have a minimum of 4 at $25.00 each,, Locks with keyways suitable for master keys add $15.00 each. Each lock comes with 2 keys. Grand master keys are also $25 each minimum of 4.
Quantity: 1 per Unit
| | |
| --- | --- |
| QUANTITY | PRICE |
| 1 - 25 | $319 |
| 26-75 | $289 |
| 76-150 | $279 |
| 151-300 | $259 |
| 301+ | $249 |
NEW MINIMUM CHARGE $65.00 FREIGHT INCLUDED
Replacement Keys are $9.50 minimum 4.
Replacement knobs are $45